Monterey Parkinson's Support Group ~ Resources
UNIVERSITY RESOURCES
The UCSF Parkinson's Spectrum Disorders Center is an integrated and highly collaborative neurodegenerative disorders group that spearheads international research on Parkinson's spectrum disorders leading to improved diagnosis, novel therapeutic interventions, and the training of a new generation of researchers. The clinical and research programs at the center offer the highest level of care and treatment advances to patients with parkinsonian disorders.
The UCSF Movement Disorders and Neuromodulation Center is a well-established, internationally recognized program. It is also one of the busiest deep brain stimulation implanting centers on the West Coast with a wide referral base.
The mission of the center is to provide state-of-the-art comprehensive multidisciplinary care to patients with movement disorders. They offer a variety of services that include comprehensive neurological evaluations, medication treatment and disease management, botulinum toxin injections, neurosurgical procedures including deep brain stimulation, and deep brain stimulation programming.
The medical staff includes neurologists, neurosurgeons, neuropsychologists, radiologists, and nurses who have specialized training in movement disorders and the problems associated with these conditions whose goal is to provide individualized comprehensive care.
NATIONAL RESOURCES
The American Parkinson Disease Association works tirelessly every day to support and empower anyone who is impacted by Parkinson's disease (PD). Our nationwide network provides information and referral, education and support programs, health and wellness activities, and other events to facilitate a better quality of life for the PD community, while also funding vital research. It is this grassroots structure that distinguishes APDA from other organizations serving people with PD. We are here to help you and your loved ones every step of the way.
The Parkinson's Foundation makes life better for people with Parkinson's disease (PD) by improving care and advancing research toward a cure. In everything we do, we build on the energy, experience and passion of our global Parkinson's community.
The Michael J. Fox Foundation (MJFF) exists for one reason: to accelerate the next generation of Parkinson's disease (PD) treatments. In practice, that means identifying and funding projects most vital to patients; spearheading solutions around seemingly intractable field-wide challenges; coordinating and streamlining the efforts of multiple, often disparate, teams; and doing whatever it takes to drive faster knowledge turns for the benefit of every life touched by PD.
In principle, it means leveraging our core values of optimism, urgency, resourcefulness, collaboration, accountability and persistence in problem-solving to work on behalf of the 6 million people worldwide living with Parkinson's.
Davis Phinney Foundation: Since 2004, the Davis Phinney Foundation has brought to life some of the most important programs, research, content, and events for those affected by Parkinson's. Our community includes people living with Parkinson's, Parkinson's care partners, families and friends of those living with Parkinson's, physicians, and Parkinson's allied health professionals.
What Makes Us Different? We all want a cure for Parkinson's. However, until that happens, we know that people are going to live a very long time with it; therefore, the most important work we can do is to help them live well TODAY. We do this by providing education, tools, resources, and inspiration that touch on every aspect of life: physical, emotional, intellectual, social, and financial.
https://davisphinneyfoundation.org
Parkinson & Movement Disorder Alliance, "PMD Alliance" for short — an independent, national nonprofit dedicated to providing opportunities for people to learn, live more fully and spark meaningful connections around them. PMD Alliance reaches across all communities and partners, including our sister organizations. Yes, in a world where genuine collaboration can be tough to find, we treasure it! Our journey is a team sport.
Twitchy Woman is a way to exchange ideas and solutions with other whose lives have been affected. It has been recognized by Everyday Health, Healthline, Stanford University and more as one of the top Parkinson's blogs to follow. Each month I host a free Zoom series exclusively for other "Twitchy Women" with Parkinson's Disease.
HOSPITALIZATION
Most people will need to be hospitalized for one reason or another at some point in their life. This is particularly true of people with long-term illnesses, like Parkinson's disease (PD). Common reasons for hospital admissions from the emergency room can include infections of the urinary tract or lung (such as pneumonia), cardiac issues, injury from falls, and dementia-related behavioral issues. Common reasons for non-emergency hospitalizations are elective surgeries such as knee and hip replacements.
Hospitalization can be devastating for PD patients and tremendously stressful for their caregivers for a number of reasons:
The neurologist who takes care of you and manages your PD medications may not have privileges at the hospital where you are admitted.
The physicians responsible for your care in the hospital may not know a lot about PD.
The nursing staff may not have much experience with PD patients, and for various reasons including nursing shortages and/or cuts in staffing, they are not likely to have the time to learn best PD practices while you are admitted.
If you need to undergo surgery or other invasive medical procedures, you may not be able to take any medications—including your PD meds—until the surgery or procedure is complete.
It is important for the person with PD and the caregiver to plan and to anticipate what is likely to happen during a hospitalization. The combination of education and planning can alleviate many of the problems encountered in the hospital.
Click here to get detailed information from the Stanford Parkinson's Community Outreach page.
The Aware in Care kit includes tools and information that will help people with Parkinson's and their families plan for the next hospital stay.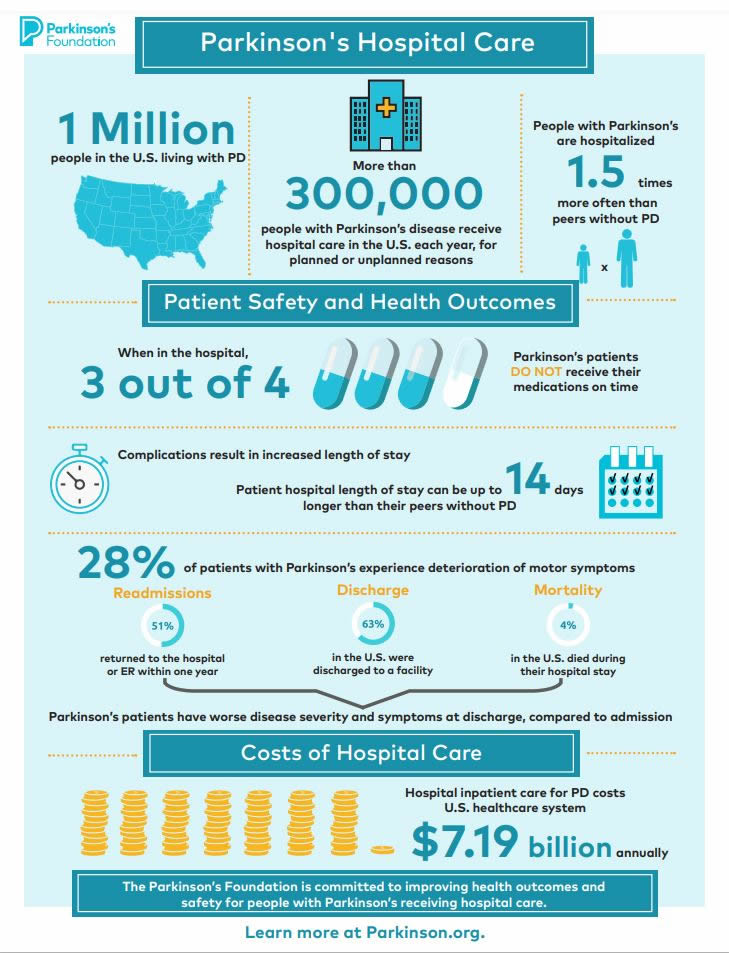 Disclaimer
Content on our site is provided for informational purposes. Our site includes links to sites maintained by others. MPSG is not responsible for content on those sites. Please remember that medical decisions should always be made in consultation with your physician or health care provider.